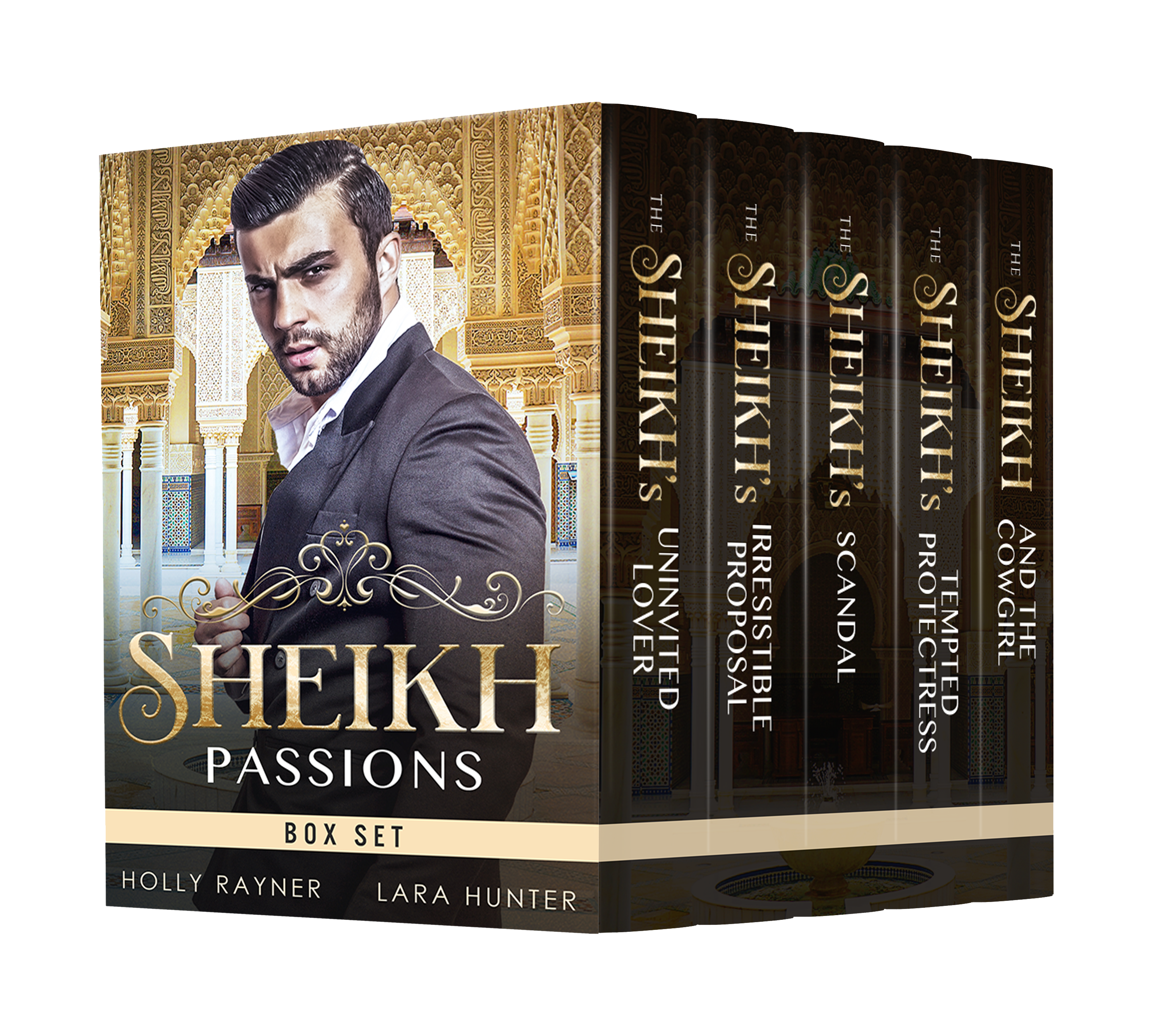 Published:

August 1, 2019
Buy on Amazon.com
Buy on Amazon.co.uk
A bargain-priced 5 book box set of sweet sheikh romance novels.
This is a delightfully sweet romance box set from Holly Rayner. It's filled with enthralling tales of princes of the middle east, and the gorgeous women who dare to fall for them…

The Sheikh's Uninvited Lover:
Kayla can't sleep. She never imagined house-sitting for her wealthy sister would be a challenge, but the noise blaring from the mansion down the street is impinging on her much-needed break.
When yet another party erupts the following night, it's more than Kayla can take; posing as her sister, she infiltrates the party with a plan to solve the problem once and for all. Rather than finding some loutish frat boy, however, she finds herself face to face with a Middle-Eastern Adonis!
Sheikh Wahid is drop-dead gorgeous, effortlessly charming, and despite being surrounded by glamorous guests every evening, there's an unmistakable air of loneliness about him. Kayla can't resist him—but she's neither super-wealthy, nor is she her sister, as she claimed!
The Sheikh's Irresistible Proposal:
Hannah Green is talented, young, and beautiful; an aspiring jazz singer, she's hurt by the news that her beloved venue and employer, The Blue Moon, may be forced to make cut-backs, including potentially her job! But when a tall, impossibly handsome olive-skinned man introduces himself as a fan, however, Hannah's fortunes are going to take a turn.
The mysterious man makes a proposal: a series of gigs in his Middle-Eastern home country, and a one-off payment of $500,000. Hannah is speechless, and after discovering his true name – Sheikh Sadiq bin-Haled al-Halam – and his reputation as one of New York's richest, most eligible bachelors, Hannah feels this is one proposal she cannot resist…
The Sheikh's Scandal:
I never expected that a walk on the beach would change my life forever.
There it was in the sand: a message in a bottle, written twenty years ago by a poor, lonely boy named Ali. As soon as I read it, I had to know more.
Swapping the Miami sun for the sands of Al Jayah, I set off on an adventure; I wanted to find Ali, and see what had become of him in these last twenty years.
But the trail led nowhere. I found nothing.
That is, until I was pulled off my return flight, and bundled into a waiting car, on the orders of none other than the tall, dark, and handsome ruler of Al Jayah, Sheikh Ahmad!
I've discovered the missing piece in a puzzle that could scandalize a nation.
The Sheikh is living a lie.
And you know what else? I think I'm falling for him.
The Sheikh and the Cowgirl:
With seven horses and a cantankerous cat for company, cowgirl Anne-Marie already has enough on her plate; as the sole inheritor of her family's ranch, and all the responsibilities that come with it, she's never had time for love. Until, that is, a tall, dark, and exotically handsome sheikh rides over the horizon, shattering her peaceful existence and ensuring that life on the ranch will never be the same.

The Sheikh's Tempted Protectress:
Beth Coolidge has a new assignment: as personal bodyguard to the notoriously hedonistic playboy Sheikh Osman Al-Haddeni, the ex-navy veteran knows she has her work cut out, but she never thought it'd be this tough. The party-loving Sheikh seems to want to regard her more as a pretty-faced status symbol, than a legitimate protector of his life…