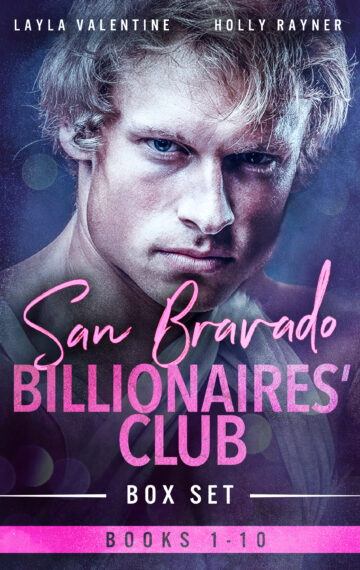 Published:

August 26, 2019
Buy on Amazon.com
Buy on Amazon.co.uk
A bargain-priced 10 Book Box Set of billionaire romance novels
This is a sizzling hot romance boxed set from Layla Valentine and Holly Rayner. Filled with steamy, enthralling tales of the gorgeous billionaires of San Bravado, it's a sweet and spicy trip to the most romantic city in America.
Second Chance Twins:
All he wants is a second chance with the one that got away,
But there's not one, but two bundles of joy to meet first!
Nanny For Hire:
I've broken the heart of every nanny I've recruited. Can I keep my hands off my latest hire?
The Baby Bargain:
The billionaire needs a baby.
He's about to get a whole new family instead…
Accidental Triplets:
One night of red-hot passion,
Two eager lovers,
And three accidental babies!
Because what else do you give the man who has everything?
Take My V-Card:
I never thought I'd see him again
The would-be lover who left me waiting…
Now, he's back,
And this time, he's gonna take my V-Card
Bought By The Boss:
She was meant to be a one-night fling,
But then she tried to steal from me.
I'm going to make my mark on her,
She's going to learn who's boss…
Four Secret Babies:
He has billions of dollars
But he doesn't have a baby
Well guess what?
That's going to change – four times over!
My Brother's Best Friend:
Five years have gone by since that fateful night,
When the red-hot 19-year-old burst onto the San Bravado scene.
She was the hottest new thing in town.
Not Marriage Material:
I made a deal with the devil: play the fake girlfriend to the drop-dead-gorgeous billionaire. But now it's getting all too real…
The Single Daddy Situation:
He's an irresistibly handsome single dad,
My former lover, and my soon-to-be boss.
Oh, and did I mention that he's a billionaire?
Welcome to my single daddy situation…