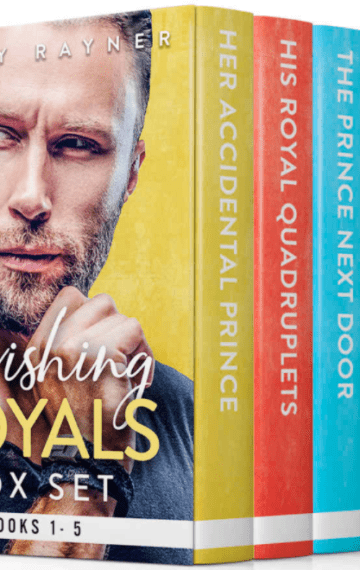 Published:

February 17, 2020
Buy on Amazon.com
Buy on Amazon.co.uk
This is a wonderfully sweet romance boxed set from Holly Rayner. Filled with gripping, enduring tales of clean and wholesome royal romance, and featuring irresistible European princes, it's a great value boxed-set, with five tales of romance that will melt your heart.
Her Accidental Prince:
Poppy Moran was going nowhere. Newly unemployed and resisting the prospect of heading back to the States, she throws caution to the wind, and herself into the arms of a mysterious stranger…
Prince Max loves his country, but feels the weight of living in the public eye heavily. When his father reveals he's made plans for an arranged marriage to a "suitable" bride, Max heads to Copenhagen to drown his sorrows…
Twelve hours later, Poppy and Max wake up confused, hungover, and most importantly, married! Far from panicking, though, the prince begins to wonder: maybe being hitched to this pretty near-stranger isn't the worst thing in the world. What if they maintained the ruse, and solved his very royal predicament?
His Royal Quadruplets:
Phoebe Miller just made the biggest mistake of her life. Fleeing the country after embezzling thousands from her boss, she's in big need of a distraction. And one just appeared, in the form of a handsome stranger…
Luca von Kartmeier understands Phoebe's dilemma better than she could possibly realize. The truth is, he's a prince, with a troubled past of his own.
Finding solace in each other's arms, the two enjoy just one magical night together before Phoebe realizes she must return home and right her wrong.
She almost gets away with it, but is horrified to discover, weeks later, that her boss knows what she did—and is determined to make her pay. Not only that, but she's pregnant with the prince's babies!
The Prince Next Door:
Julia Fernandez is reeling from the loss of her mother. When an unexpected offer puts her in the small town of Sterling, Ohio, for the summer, she thinks it might be the perfect place to create some new memories. The gorgeous single dad next door? Well, he's just the cherry on top!
The two get close quickly, but Kal's refusal to be drawn on his past soon drives Julia away. She retreats, wanting to protect herself, until a mysterious letter arrives, and Julia discovers that her gorgeous neighbor isn't who he says he is. He's no ordinary single dad: he's royalty!
The Royal Treatment:
Rose is a nurse running from a painful past, and tortured memories. Hoping to open a new frontier in her life, she volunteers to work for an aid organization in Al-Rasmah, a country torn up by civil war. She certainly didn't go looking for love, but the drop-dead gorgeous new doctor might be just the therapy she needs…
Vincenzo is the cocky new arrival, as infuriating as he is handsome. Surprised when his skills appear to match his ego, Rose allows herself to get closer to the mysterious new doctor. Little does she know that in doing so, she's putting herself in grave danger…
Dr. Vincenzo Marino isn't like any other doctor; he's running too. Rose soon discovers he's a long-lost Mediterranean prince! A man escaping from a life that was planned out for him before he was even born, and someone wanted by dark forces!
The Prince's Long Lost Baby:
Matteo Endrizzi is a playboy prince in full rebellion. That is, until he's called back to the palace by tragic news – his father, the King, is dying. One shocking deathbed confession later, and he learns the scandalous truth: he's father to a secret child, he knew nothing about…
Ashley Bedford is a normal Virginia woman, juggling raising her adoptive son and building her own business.
A chance encounter with a smoldering-hot stranger awakens feelings she's suppressed for years – but it's about to get a whole lot more complicated, as the stranger brings a revelation that will change her life forever: her son is a royal, and his father is here to claim him…