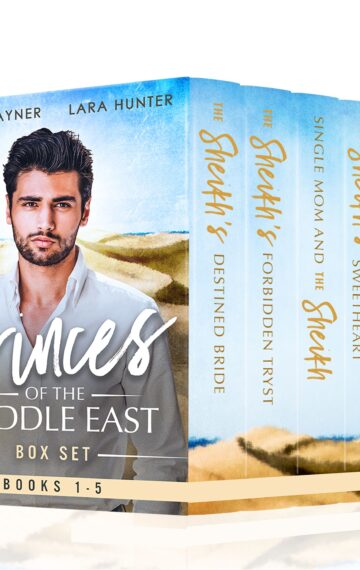 Published:

October 16, 2019
Buy on Amazon.com
Buy on Amazon.co.uk
A bargain-priced 5 book box set of sweet sheikh romance novels.
This is a delightfully sweet romance box set from Holly Rayner. It's filled with romantically beguiling tales of powerfully irresistible, drop-dead-gorgeous sheikhs, and the strong and feisty women they fall for. It includes four re-issues of books previously released, some of which include new epilogues.
The Sheikh's Destined Bride:
Taylor is a New Yorker in need of an escape. Trapped in a legal dispute with a malevolent former employer, she decides to head upstate to an idyllic small town. There, as luck—or fate—would have it, she meets a handsome stranger, the perfect distraction from her current predicament…
Sheikh Suriman has never had time to find his princess. After discovering a prophecy foretold by his late grandmother—once regarded as an oracle within his kingdom—he's at first unconvinced. That is, until he meets a charismatic, intelligent American woman who seems to match it perfectly. But it couldn't be true, could it?
Swept away by the mysterious stranger's charm, it's only after a day of falling for one another that Taylor discovers the truth: he's a prince! And what's more, the very next morning, he asks her to be his bride!
The Sheikh's Forbidden Tryst:
When struggling secretary Lucy Morrison receives a promotion at work, she thinks her luck has finally changed for the better. Working under her irresistible new boss, the charming, gorgeous Sheikh Khabib bin Samara, she thinks her biggest problem is going to be focusing on anything but the dark-haired Adonis in the office next door.
Things take a turn, however, with the revelation that her new position comes with some covert responsibilities. Not only do the Sheikh's controlling parents insist that she spy on him, reporting back on every woman the playboy prince sees—they also want her to find him a "suitable" wife!
Single Mom and the Sheikh:
Dragged to the desert for an old friend's bachelorette party, Skyler Monroe finds herself at the mercy of Las Vegas, but away from her family and out of her depth, she isn't feeling the party atmosphere.
A lucky roll of the dice, however, and it seems as though she's found her salvation; Sheikh Jalaal Afsal, a Middle-Eastern Adonis with chiseled features and an accent that leaves her weak at the knees…
The Sheikh's Scheming Sweetheart:
Vanessa Hawkins has it all planned out; part feisty archaeologist, part work-obsessed student, she's poring over antique maps in the library when she spots something no one else has: a clue to the location of an ancient tomb, buried beneath the sands of the Nubian Desert, and long thought lost.
If the tomb is where she thinks it is, Vanessa could be about to make the discovery of the century; a burial site festooned with unimaginable riches, this could make her career, not to mention make her financial woes disappear.
The plot thickens when she meets Sheikh Ramin Al-Zand, a charismatic and jaw-droppingly handsome royal, who offers to aid her travel across the desert. What she doesn't tell him, is that she plans to double cross him, and steal some of the artefacts for herself…
Maid to the Sheikh:
I never believed he would be interested in me. Him, a royal. A Sheikh. And me, a single mother and a mere maid, with barely a penny to my name.
I never believed I could feel his soft lips against mine, or put my ear to his chiseled chest, and feel his heart beat a guilty rhythm.
And I never believed he could keep such a scandalous secret for so long.
Sheikh Adil Hajjar; ruthlessly successful businessman, Middle-Eastern Prince, and overpoweringly gorgeous hunk of a man. He could get any girl in the world. And he wants me.
But there's a problem.
I've discovered his big secret.
And I'm the only one who knows.
Suddenly I'm closer to him than anyone.
And I like it.