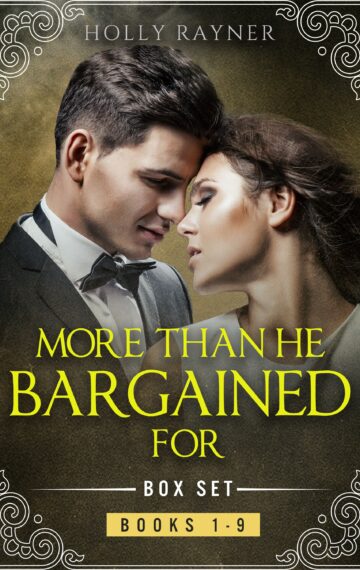 Buy on Amazon.com
Buy on Amazon.co.uk
A bargain-priced 9 book Box Set of baby-surprise sweet romance novels.
This is a delightfully sweet romance box set from Holly Rayner. It's filled with enthralling tales of sheikhs, billionaires, and most of all, their sometimes accidental, at times secret, but always beloved babies!
The Sheikh's Twin Baby Surprise:
Sheikh Omar Fakim Al-Daqqa has a problem: as presumptive heir to the throne of Al-Thakri, the Middle-Eastern nation's constitution demands that he must have a child in order to accede to the throne. Knowing that his power-hungry brother is desperate to usurp his throne and have a baby before him, Omar knows he must act quickly, and he already has a potential mother in mind…
The Sheikh's Triplet Baby Surprise:
Career-minded Amity Winters has no time for love and marriage; a respected public relations executive, and one of the best in Los Angeles, she's never put much thought to starting a family. Yearning for a fresh challenge, she accepts an unusual offer…
The Sheikh's Quadruplet Baby Surprise:
Sensing an unmissable opportunity to advertise his company's new treatment, the Sheikh agrees, and before long, Maddy is pregnant. What Maddy didn't consider, however, is that the treatment might be overly effective. Four times too effective, in fact!
The Sheikh's Quintuplet Baby Surprise:
The next morning, however, Nicole is shocked to discover that the Sheikh is engaged to be married to a woman he's never met, and faces going back to work as though nothing happened between them. Little does she know that five precious reminders grow larger inside her every day…
The Sheikh's Sextuplet Baby Surprise:
Rachelle is heartbroken by Darian's disappearance, but her attempts to contact him prove fruitless. When her doctor confirms that she's carrying a little something – or rather, six little somethings – to remember him by, however, she knows what she must do…
The Tycoon's Triplet Baby Surprise:
As the legal case picks up steam, Charlotte receives some shocking news: she's pregnant, with not one, not two, but three of Sean Lawson's babies! With the court case in jeopardy, and their fledgling romance on the line, can they overcome the forces that seek to drive them apart, and become the united, loving parents they never expected to be?

The Sheikh's Borrowed Baby:
As Karim falls deeper into his lie—and as Hallie falls ever deeper for her fake husband—it soon becomes clear that neither party will walk away unscathed. Can Karim figure out that this little family isn't just a prop in his spun fiction, but a warm and precious treasure, that'll finally make him whole?
The Prince's Triplet Baby Surprise:
As a paparazzo journalist Lisa Garcia is used to meddling in other people's business, so her plot to get closer to the handsome and alluring Prince Francesco of Aluzzi seems almost too easy. Tasked with snapping pictures of him and his infamously difficult fiancée, Princess Rose, her plan goes off without a hitch, but when she witnesses the Princess storm off after a bitter row, Lisa is quickly thrust into a royal drama!
The Tycoon's Temporary Twins:
Sophia is horrified that Jed thinks of the baby only as a short-term convenience, and sets out to prove him otherwise. But as they grow closer—and Sophia finds out that she's expecting twins—can she trust that Jed is falling for the idea of starting a family, or is he thinking only of the votes?