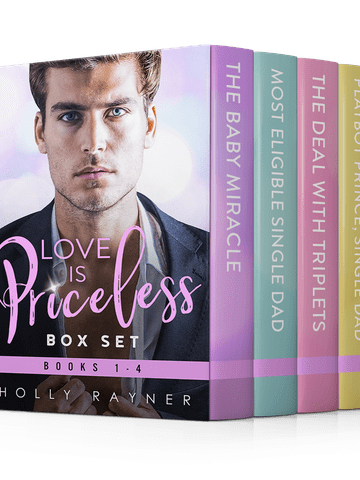 Published:

September 17, 2019
Buy on Amazon.com
Buy on Amazon.co.uk
A bargain-priced 4 book box set of sweet romance novels
This is a sugary-sweet box set of beautiful, clean romances from Holly Rayner. Filled with engrossing tales of billionaires, princes, and the strong and courageous women they pursue, it's a great way to read four hit romance novels.
The Baby Miracle:
Kendall Wrightwood is a journalist whose life is in a rut. Stuck writing fluff pieces, she's yearning for the chance to get her hands on a big story. That is, until Chase Harker comes to town.
He's the golden opportunity that just dropped into her lap; a billionaire ex-model who retreated from the spotlight in mysterious circumstances, Chase is a man everyone wants a piece of, and Kendall is determined to get hers!
There's something more, though. Feeling a connection like she's never felt before, Kendall thinks that perhaps it's worth pursuing the personal over the professional. The two have a whirlwind night together, and as she wakes up alone the next morning, Kendall has to face the fact that she slept with the man she should have been interviewing!
Three months later, and her billionaire lover — and prospective scoop — has long gone, but Kendall is stunned to realize she's pregnant, and the baby can only be his!
There's just one problem: Chase is infertile. At least, that's what he thought. The gorgeous billionaire is about to receive a baby miracle…
Most Eligible Single Dad:
Tanya Owens is an ex-NYPD cop who sought freedom as an independent private investigator. Unfortunately for her, business didn't take off, and now she's in a bind: take a skeevy infiltration job and compromise her ethics in the process, or wait until the not-too-distant day when her meager savings run out and her mother can no longer climb the stairs to her walk-up in the Bronx.
Needless to say, Tanya takes the job, and in short order meets her mark: Raul Jimenez, a gorgeous, kind, Spanish billionaire, who also happens to be a single dad to an adorable little girl. Sparks fly under an assumed identity, and all of a sudden, can't help envisioning a future with him, all the while knowing she will soon be forced to betray him…
Weeks later, the job is done, and Tanya's heart is broken. She fell for him, then stabbed him in the back, and it's only a matter of time before he discovers her crime. Things could not be worse – until she finds out she's pregnant with his baby!
The Deal With Triplets:
Work addict Zoe is at the top of her game, but she can't help but feel as if something is missing. She was raised being told she could "have it all, but at 29 she has the career, and little else. She wants something deeper, but how is she ever going to find that when she never gets out of the office before 8 p.m.?
Enter Lucas, the deliciously handsome Belgian chocolate billionaire, consummate workaholic, and architect of her company's takeover. He's cultured, handsome, enigmatic, and making her work life a nightmare.
After one misjudged night in which she spilled all of her inner desires and slept with him, Zoe's new boss comes at her with an intriguing – but strictly business – offer: how would she feel about becoming parents together?
But the biggest twist is yet to come! Rather than the one baby their deal demanded, Zoe is expecting triplets!
Playboy Prince, Single Dad:
Emma Clark is many things: a New Yorker, a beloved tutor, a talented photographer. She's also single, and wary of men.
When she meets a smoulderingly hot stranger in the park, she begins to think that maybe, just maybe, he might be worth taking a chance on. A single dad with the soul of an artist, he captures her heart in the space of an afternoon. But then, of course, he turns out to be just like the others. He's a man with one thing on his mind – and he's a European playboy to boot!