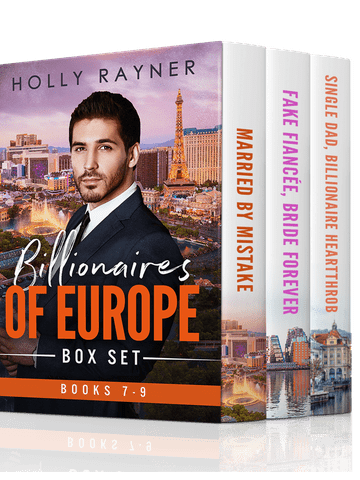 Published:

April 29, 2019
Buy on Amazon.com
Buy on Amazon.co.uk
This is a delightfully sweet romance boxed set from Holly Rayner. Filled with sweet, enduring tales of clean and wholesome romance, and brimming with hot and hunky European Billionaires, it's a great value boxed-set.
Married By Mistake:
It's Dani's first trip to Las Vegas and she fully intends to make the most of it. Landed, set, and ready to paint the town red for her college friend's bachelorette party, she doesn't yet know it's a weekend that'll change her life…
They hit the tables, and Dani gets on a lucky streak, with no gamble more fortunate than being seated across from the eye-grabbing, red-hot Portuguese man betting big; they form an instant connection, and just as quickly as they fall for one another, they fall out! Love him or loathe him, Dani finds she can't get the frustratingly gorgeous Mediterranean billionaire off her mind.
A day later, having the time of her life with her best friends in the world, Dani's sure she's seen the last of her handsome tormentor—until the next morning when they wake up handcuffed together, and apparently married, with no idea how they got there!
As Dani and Luciano fight to annul their accidental marriage – encountering more than a few inopportune hurdles along the way – and slowly unravel the mysteries of that lost night, Dani begins to wish their mistaken marriage doesn't have to come to an end at all. Out of a tawdry – and accidental – Vegas marriage, can they salvage something beautiful and true? Has Dani hit the jackpot with the man of her dreams after all?
Fake Fiancée, Bride Forever:
Leah Simmons had it all planned out; with an opportunity to pitch her passion project to investors, success was hers for the taking. Enter Magnus Johansen, the cocksure, arrogant young Norwegian. He stole her heart in an evening, her big break the morning after.
So, when Magnus gets in touch with her five years later, alleging he has an offer for her, Leah is torn between lovelorn curiosity and bitter hatred for her arrogant former flame. Her life has floundered these past few years, while he's made billions. After so much time has passed, could it really be true that he wants a second chance?
The truth, it turns out, is far less romantic. Leah soon learns that the gorgeous billionaire has a proposition for her: be his fake fiancée. He'll get a green card; she'll walk away with millions. It's just business, he says. Of course, it always is with him.
The lines soon start to blur as Leah remembers all the reasons she fell for Magnus in the first place. As the stakes get higher, will she be able to put aside her burgeoning feelings – and everlasting bitterness – towards Magnus? Could it be possible that the cold-hearted billionaire feels the same?
Single Dad, Billionaire Heartthrob:
Tia Birchfield had big ambitions, but life kind got in the way. Now she's a taxi driver, working hard to do the best by the number one man in her life – her ten-year-old son, Ryan.
When she takes an old friend up on the offer of a free vacation, Tia's worried about fitting in at a five-star resort in Switzerland. The last thing she expects is to end up eating dinner with a billionaire!
In her panic, she lets gorgeous, filthy rich Maxim make his own assumptions about her, and soon ends up trapped in a web of lies, with a fake back story to boot!
As the weekend snowballs, so too does the barely restrained romance between Tia and the smoldering hot single dad. As their children, two kids from different worlds, strike up a beautiful friendship, Tia has to wonder to herself: could it really work between her, the blue-collar gal, and the billionaire?
Soon enough it's time to head home, and Tia cuts herself off rather than risk her ruse being discovered. Little does she know, the truth is going to come out in the most unexpected way!
Can these two small families unite, and become a beautiful new one?