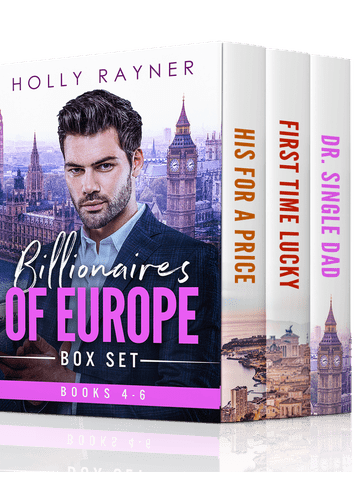 Published:

December 5, 2018
Buy on Amazon.com
Buy on Amazon.co.uk
This is a delightfully sweet romance boxed set from Holly Rayner. Filled with sweet, enduring tales of clean and wholesome romance, and brimming with hot and hunky European Billionaires, it's a great value boxed-set.
His For a Price:
He's a fast-living billionaire adrenaline junkie with looks and charisma to match. With a championship race coming up, Julien needs a good luck charm to set him on his way…
Ashlynn is a talented opera singer, attempting to bounce back from a disastrous divorce that bankrupted her and knocked her confidence. When she receives an offer from a gorgeous gentleman to accompany him to Monaco, she can hardly turn him down.
Plucked from obscurity on the Vegas strip and thrust onto a stage in front of thousands, Ashlynn sings her suitor to glory. But as she soon discovers, she's one in a long line of Julien's good luck charms…
Soon she finds herself falling for him, and hard. But can she trust the lifelong playboy enough to open her heart to him? Can she see beyond his history? Can she confide in him about hers?
On the gorgeous beaches of Monaco, some things can be bought and paid for, but others are truly priceless…
First Time Lucky:
Josie is a talented Miami model whose star is on the rise. Ambitious, but deeply guarded, she never allows herself to get close to anyone. Her biggest secret? At 23, she's still a virgin.
Offered the chance to star in a new reality show and take her career to new heights, Josie knows it will be way out of her comfort zone, but nonetheless agrees to give it a shot. It's only then that she finds out she'll be playing a ridiculously exaggerated version of herself, on a billionaire dating game!
Flashy Italian billionaire and famously eligible bachelor, Matteo Bonnuci is the kind of guy who always gets what he wants. After a chance meeting puts him in a room with Josie, he decides there's no point going through with the rigmarole of filming the show; he's already picked his winner…
With the show cancelled, the two embark on a whirlwind romance. Josie learns just why Matteo is the billionaire everyone wants to know, and piece by piece, Matteo reveals the gentle, sensitive soul that Josie keeps hidden from the world—the woman that no one else around her is inclined to see. Can she lower her walls enough to let him in?
As malevolent forces conspire to drive them apart, in a world of glitz, glamour and backstabbing, can these two pure souls find true love?
Dr. Single Dad:
Jess is a nurse who loves her job, but her day begins and ends at the hospital, and at 32, she's still single. Little does she know, her inability to ever clock off is about to change her life forever…
After stepping in to help after a minor traffic accident, Jess soon comes to learn that the cute little boy she helped was none other than the son of Boston's hottest billionaire: Spencer Hunt, rock star of the medical world. And he wants to thank her in person!
The two hit it off, with Spencer offering Jess a job at his private clinic—a chance to learn from her medical idol, and a step closer to fulfilling her dreams. But does the gorgeous British doctor becoming her boss mean that he's now off limits?
As she falls further for the kind and worldly single dad, the two toe a blurry line between romantic and professional, and Jess feels envious eyes on her; it turns out she's not the first to fall for her dreamy British boss!
Meddling forces will work to part them; will the doctor prove to be the medicine she needs?