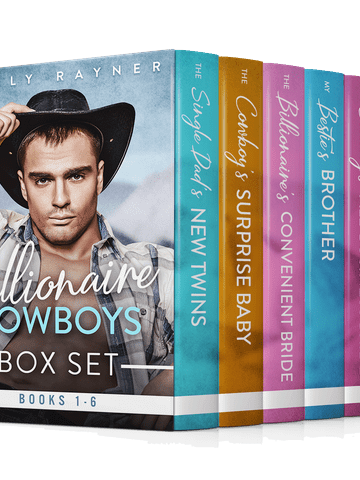 Buy on Amazon.com
Buy on Amazon.co.uk
This is a wonderfully romantic boxed set from Holly Rayner. Filled with gripping, enthralling tales of clean and wholesome western romance, and featuring insatiable cowboy billionaires, it's a great value boxed-set, with six tales of romance that will melt your heart.
The Single Dad's New Twins:
She's got a secret: TWINS, and they're his…
But this ain't the cowboy's first rodeo…
The Cowboy's Surprise Baby:
Blue-collar gal and billionaire cowboy.
Inseparable, or so they thought…
After being cruelly torn apart,
Will he ever know that he's a father?
The Billionaire's Convenient Bride:
He needs a green card; she needs the money
Single mom and billionaire cowboy, married for convenience
Can they ignite a passion that'll last a lifetime?
My Bestie's Brother:
He's utterly irresistible, filthy rich, and completely forbidden;
The estranged brother of my best friend and business partner.
He could make my every wildest dream a reality,
Or I could lose it all…
The Cowboy's All-Business Bride:
They say you shouldn't mix business and pleasure,
But this billionaire cowboy needs an all-business bride…
It's fake alright…
So why does it feel so real?

Wanted By The Billionaire Cowboy:
He's a billionaire cowboy, with as many secrets as he has riches,
He changed everything – his name, his looks, his life.
And now he wants a second shot with her…