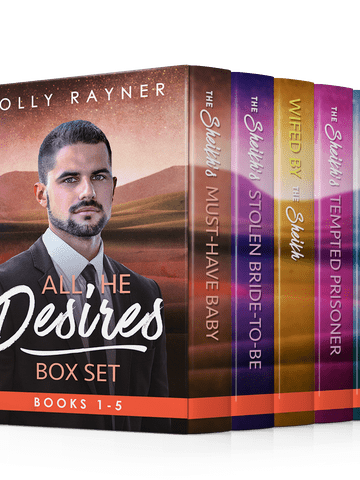 Buy on Amazon.com
Buy on Amazon.co.uk
A bargain-priced 5 book Box Set of sweet sheikh romance novels.
This is a delightfully sweet romance box set from Holly Rayner. It's filled with beguiling tales of sheikhs, temptations, and most of all, their thrilling stories of romance.
The Sheikh's Must-Have Baby:
Sneaking onto a private beach in the beautiful country of Al-Yara during a layover, Joanna bumps into a gorgeous and beguiling sheikh, who soon makes her an irresistible proposal: half a million dollars, and the baby she always wanted!
This may not be the family dream that Joanna had, but can she really say no to such a handsome man and such a handsome sum of money, while getting the child she so desperately wants?
And is she ready to accidentally fall in love along the way?
The Sheikh's Stolen Bride-To-Be:
On her way to the wedding venue, Steph realizes something isn't right. She's been stolen away from a fate she never asked for by Mehdi, the Sheikh of the land! But is he her kidnapper or her savior?
Swept away to paradise, Steph can't escape reality forever. At some point, she knows she must face her parents' wrath. And the groom she jilted…
Wifed By The Sheikh:
After posing as a crew member on a cruise ship and illegally entering the Middle-Eastern nation of Murindhi, serial-splitter Zelda Barnes-Scott is caught, and threatened with jail. Luckily for her, she's offered a lifeline by a passenger on the ship: none other than Sheikh Zayed El-Sharabi, a royally handsome prince. His offer is simple; agree to marry him, and he'll see to it that her charges are dropped.
The Sheikh's Tempted Prisoner:
When she rear-ends an outrageously flashy sports car, Lily's world is turned upside down. With no visa and no insurance, she's nothing short of a fugitive—and the man whose car she hit is none other than Sheikh Atnan, the country's future ruler! Hearing distant police sirens, the Sheikh makes her an offer: come home with him, or face the authorities' wrath!
Auctioned To The Sheikh:
Forced by her over-zealous workmates into participating in her office's charity auction, the ordinarily reserved Emily Michaels is soon to be offered to the room for the highest bidder. The winning bid will buy her for one night, in a date wherever and whenever they like.
Battled over in a bidding war between her very unappealing and slimy boss, and a mysterious Middle-Eastern man, Emily is delighted when the devilishly handsome mystery man wins, and after following him to the roof to find a helicopter waiting to take them away, Emily knows he's no ordinary date…